Personal Consulation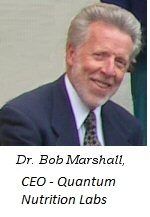 Discover Your Own Very Best Health Now

Empower your life with nutritional expert, Dr. Bob Marshall, PhD
Quantum Nutrition Labs founder Dr. Bob Marshall, PhD, is an internationally trained, certified clinical nutritionist. For over 30 years, Dr. Bob Marshall, PhD has helped thousands of people across the country support their optimal health by recommending specific nutritional and lifestyle changes...advice that they often could not find anywhere else.
During your personal consultation, Dr. Bob Marshall, PhD, will help determine which nutrients your body needs bolstered. All recommendations are designed to help you keep and enjoy your best state of health through personalized recommendations in lifestyle, exercise, health habits and advanced nutrition.
The first visit typically takes about 2 hours which includes a thorough review of your present nutritional concerns and an advanced, comprehensive nutritional program including recommended state-of-the-art nutritional supplements. Nutritional testing is typically performed to pinpoint-target special body needs. In addition QRASM (Quantum Reflex AnalysisSM) kinesiological testing may be used to help identify specific needs and interference fields.
Even after the first consultation, Dr. Bob Marshall, PhD, will leave you with wealth of insights into your physical needs and an outstanding foundation of nutritional support upon which you can immediately begin to build. Dont wait another minute...its time for you to experience your own very best "quantum health" now.
Call us at 310-320-1132 ext. 3 to find out more about how to get a personal consultation with Dr. Robert J. Marshall, PhD.
Learn more about QRATM!