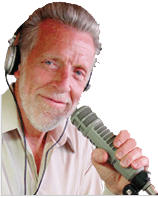 Who was Dr. Marshall?
- Co-founder of Quantum Nutrition Labs, a premier nutrition company that offers "quantum-state" products to help you enjoy your best health.
- Popular host of the dynamic radio talk show, "HealthLine Live", for over 35 years. Listen as he answers callers' health-related questions and learn how to achieve your best health.
Dr. Robert Marshall, PhD. Dr. Marshall was a clinical nutritionist whose concepts were before his time. He believed that the secrets of optimal health and restoration lie not within costly treatments or procedures, but in the body's own theorized energy field – the Quantum Energy Biofield. Using these concepts, Dr. Marshall touched the lives of countless clients throughout the globe with his effective and insightful applications; rapidly inducing, what he liked to call, The Quantum Nutrition Effect. As a result, Dr. Marshall was recognized as one of the foremost authorities in integrative medicine and considered by his peers to be one of the preeminent clinical nutritionists of his time. His remarkable body of research and his revolutionary assessment approach – Quantum Reflex Analysis – is still taught worldwide through clinical seminars around the globe. Motivated with a passion for uncompromised research, Dr. Marshall led the way with a new paradigm of the most progressive technologies, innovations and strategies for Quantum Health...

"HealthLine Live" Radio Show
Dr. Marshall's work went far beyond the lecture hall, the lab and his clinic. He began HealthLine Live to reveal the nutritional secrets and methods that took him a lifetime to discover. Don't miss this nutritional legend whose insightful ideas revolutionized natural healthcare, and whose techniques are still being used today. The show has aired continuously since 1986 and is currently airing in more than 50 different markets in the U.S..
Click here to find radio show times in your area.
How Can I Get A Personalized Nutrition Program?
Over the years, Dr. Marshall trained many practitioners across the U.S. in the use of QRASM. QRASM- or Quantum Reflex AnalysisSM- is an elegant method of integrating clinical nutrition and the bio-energetic analysis of traditional acupuncture organ/gland control points to pinpoint the specific needs of each individual. Using QRASM analysis combined with cutting edge nutritional science, your practitioner can design a powerful, personalized nutritional program, custom-designed just for you. To receive the name of a QRASM practitioner in your area, please call us at 800-370-3447.
For those who have been unable to find solutions elsewhere, you may find that QRASM can offer you a proven track record of providing nutritional answers to help a broad range of health concerns.

Credentials
Dr. Marshall earned a CCN (Certified Clinical Nutritionist) certification from IAACN (International and American Association of Clinical Nutrtionist) as well as a DACBN certification (Diplomate, American Clinic board of Nutrition). Previously, he earned degrees from the University of Dayton, Purdue University and Columbia Pacific University and attended many advanced seminars in the field of nutritional science. He was past President of the International and American Association of Clinical Nutritionist and a past member of the American Society of Tropical Medicine and Hygiene. He regularly taught professional nutritional seminars in the U.S. and has been a guest speaker at other professional seminars as well as on television and other radio shows.