European Essential Oil of Oregano
Traditionally used for optimal health and vitality support*
Contains naturally occurring carvacrol, a key phytocompound
Derived from the leaves and flowers of the true oregano species, Origanum vulgare
Liquid

No Added Stearates

Organic Ingredient(s) (1 or more)

Pure Vegan

Kosher Product Benefits
Quantum Oregano Oil contains the powerful essential oil of oregano (non-GMO) that is derived from the famous herb, oregano. It contains 25% carvacrol (0.09 mL/serving), a key, naturally occurring phytocompound.* Essential oil of oregano has been traditionally used for optimal health and vitality support.*
Quantum Oregano Oil features the essential oil of oregano derived from the leaves and flowers of the Oreganum vulgare, the true oregano species. Origanum vulgare is a perennial herb and a member of the mint family, lamiaceae, native to Western and Southwestern Eurasia and the Mediterranean region. The plant grows up to 3 feet high, with dark green leaves and a majestic purple flower. It can take up to 100 lbs of oregano plants to make 1lb of the essential oil of wild oregano. The oil of oregano is high in phenolic compounds such as carvacrol, making this concentrated natural oil very powerful.*
The Greeks and Romans had a profound appreciation for oregano and indigenous cultures have used it since ancient times. In fact, its name, "Oregano", comes from the Greek words "oros" and "ganos," which are words for "mountain" and "joy" — oregano literally means "joy of the mountain."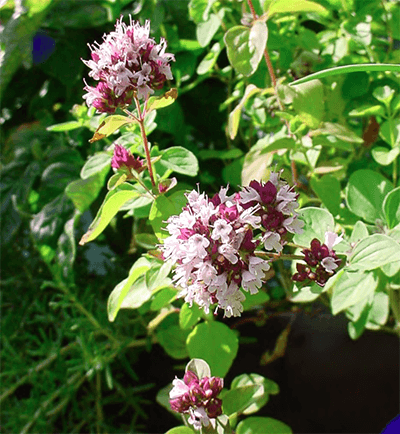 Oregano
Origanum vulare
The essential oil of this majestic plant is used in Quantum Oregano Oil
Choose Only the Best
The nutrient content of oregano as well as its phytochemical properties can vary dramatically, depending on its harvesting and production methods.* We have found many plants are improperly grown and do not offer the full spectrum of benefits typically cited in the scientific literature that we are looking for.*
Drying the plant under high heat for long periods of time can affect both strength and composition of the critical phytonutrient compounds in oregano.* The dried flowers and leaves of the wild oregano plant should be harvested when the oil content of the plant is at its highest and should be golden to dark yellow, with a strong spicy odor.*
Good quality oregano should exhibit a spicy aroma with an intense taste that may be strong enough to numb the tongue for a few seconds.* Before the preparation of the oil of oregano begins, the scientists in an FDA-inspected lab first authenticate the botanical identity of the oregano (this helps to exclude raw materials that may have been adulterated with the wrong species or other look-alike herbs such as marjoram or thyme).
Next, we have the scientists complete an in-depth phytoforensic screening inspecting for undesirable inorganic materials such as herbicides and pesticides. Our QNL quality guarantee ensures that our oil of oregano meets or exceeds FDA requirements for identity, purity, strength, composition while testing for contaminates such as heavy metals (including arsenic, mercury, cadmium and lead), residual solvents in extracts and pathogenic microbiology. The raw materials in this product have not been solvent- extracted or heat damaged.
Feeling great on a regular basis is not just a "given" any more – you have to work for it.* We recommend that you take action to transform yourself so you can live your life to the fullest. Adding Quantum Oregano Oil to your daily nutrition regimen is a winning solution.*
Serving Size 5 Drops (0.09 mL)
Servings Per Container 166
Carvacrol (from Oregano Essential Oil [leaf] [Origanum vulgare])

18 mg
Other Ingredients: Extra Virgin Olive Oil
Take 5 drops, twice daily in 2 oz. of water or with food. Feeling a heat sensation after use is normal. Avoid contact with eyes or genital regions. Cap tightly to avoid evaporation.
How do you source your ingredients?
Our manufacturer selects its ingredients based solely on purity and quantum resonance from qualified, trusted leaders and suppliers throughout the world. To determine which are truly premier ingredients, they also use bioenergetic testing, a specific testing kinesidogical system that allows identification of quality nutrients that meet our bioenergetic criteria.
All of our ingredients are tested for purity and species identification by our own in-house microbiological and biochemical labs and by independent laboratories. Each of our ingredient suppliers must meet our rigorous testing criteria as well as our stringent 4-polarity testing criteria to qualify as a supplier.
Do you use animal organ and glands in your products?
Harvested animal organs or glands are not used in our products for many reasons, including the risk of consuming undesirable toxins and hormones that the animal may have bioaccumulated. In contrast, we offer a complete line of organ and gland-targeting products \- without the use of animal organ/glands. Please see our products list to view our comprehensive line of these quantum quality products.
What is The "Body of Light"?
Ground-breaking experiments by German biophysicist Dr. Fritz-Alpert Popp of the University of Kaiserlautern and others have demonstrated that there is a release of "light" that emanates from healthy cells, which is not normally visible to the naked eye but easily quantified by highly sophisticated German optical equipment. This radiant field or "body of light" around a molecule or human cell distinguishes living from non-living substances.
How do We Keep From Falling Out of Cellular Harmony?
Consuming nutrients that are synthetic or that have degraded resonant frequencies (from nutrients that have been poorly grown or contaminated with chemical additives, etc.) can dampen your own cell's resonant frequency. Obviously, for best health, QNL's answer is to recommend the consumption of quantum quality nutrients that have a "body of light" and that are made without "junk" additives (no toxic tagalongs or excipients).
What is the Harmonic Resonance Effect?
The consequences of this stunning discovery of resonant frequencies is enormous. It is a secret key that unlocks the hidden door to why some people can quickly shift to great health \- and others can't. This discovery reveals why the ideal resonant frequency of each cell can only be sustained or regained by consuming nutrients that are also at their ideal resonant frequencies.
This dynamic interaction between the cell and the nutrient creates a highly beneficial, harmonic resonant effect in which the cell is able to ingest not only the nutritional factors but can also absorb the higher resonant frequencies embedded in the nutrient.
Do You Test for Stability?
As an FDA-regulated facility, we operate under Code of Federal Regulations 21 CFR Part 111, which is governed by the Food and Drug Administration (FDA). The regulation states that we are not required to market an expiry date on our products. If we market an expiration date on our product(s), the regulation also states that it must be truthful and supported by data. Our products with expiry dates follow intensive International Council for Harmonisation (ICH) Q1A – Q1F stability protocol guidelines, which is a standard used for pharmaceutical (both prescription and over-the-counter) drugs. Temperature and humidity can impact a product's quality, therefore our products are tested at a wide range of storage conditions [25°C/60% Relative Humidity (RH), 30°C/65% RH, and 40°/75% RH] over a period up to 36 months to ensure that the product remains stable and the label claim is accurate when stored as directed. To help with stability, some of our products are nitrogen or argon flushes, and have moisture or oxygen desiccants added. Further, our products are distinguishable b our exclusive Violite(trademark icon) container. Violite(trademark icon) is an innovative, dark violet-colored, polyethylene (PET) plastic bottle that blocks light frequencies between 450-720 nanometers, which can create radiation damage to ingredients.
What is Cellular Resonance?
Exciting research over the last 15 years has shown that the outer membrane structure of every cell in your body is a unique, semi-crystalline matrix. This means that every one of the trillion plus cells in your body has an ideal resonant frequency, much like a crystal glass that rings its own special note when struck.
People who bought this also bought