by QNL Staff,
September 29th 2021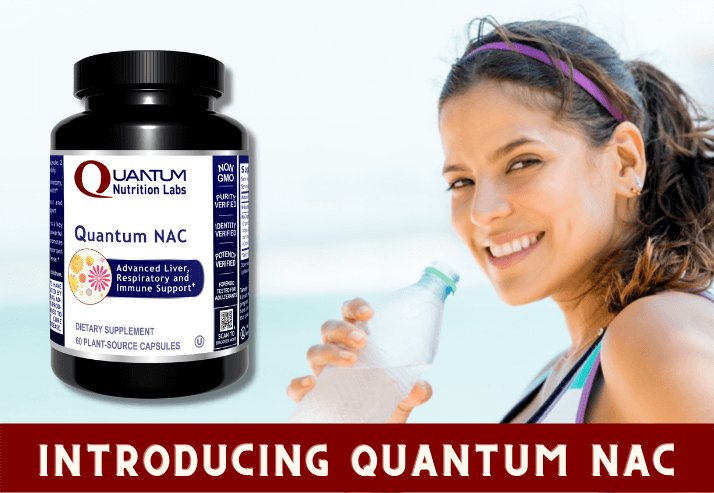 Our QNL team is proud to announce our new product launch – Quantum NAC! This is one of the most popular products in the health marketplace right now. Here at Quantum Nutrition Labs, our team is constantly working to improve the health of our customers by offering high-quality, nutritionally superb dietary supplements. Our dedication to health and wellness means that we are continually searching for significantly beneficial ingredients that can really make a difference in your daily routine.
What is NAC?
NAC or N-acetyl-cysteine is a key amino acid that can promote the production of glutathione, one of the body's most important antioxidants.* Essential for immune health, glutathione works by neutralizing free radicals which can damage cells and tissues in your body.* Glutathione is used by every cell and tissue in the body and is essential for combating free radicals due to oxidative stress which can damage cells and tissues in the body.*
Quantum NAC offers powerful support for respiratory, liver, and immune health.* This plant-based product can help support healthy glutathione levels in your lungs, support bronchial tube health, and promote healthy lung function.* The antioxidant properties of NAC may provide optimal detoxification support from environmental stressors, supporting the liver in times of stress by replenishing glutathione stores.* Additionally, NAC may provide immunomodulatory support by increasing glutathione stores in immune cells, keeping the immune system healthy.*
NAC offers advanced antioxidant support which can promote whole-body health and wellness as a powerful free radical scavenger.* This superior antioxidant may support a wide variety of bodily tissues by maintaining glutathione levels, especially during times of stress.*
Quantum NAC is the latest, nature-sourced nutritional supplement to be offered by Quantum Nutrition Labs. This formula contains quantum-state ingredients that are sourced from trusted suppliers; expertly manufactured and tested to ensure a full range of purity and potency. We are proud to offer "nutrition that really works" as high-quality products manufactured and lab-tested in a world-class cGMP/NSF/USP facility. Our products are made with organic, non-GMO, gluten-free ingredients without artificial colors, flavors, fillers, or stearates.