by QNL Staff,
December 2nd 2021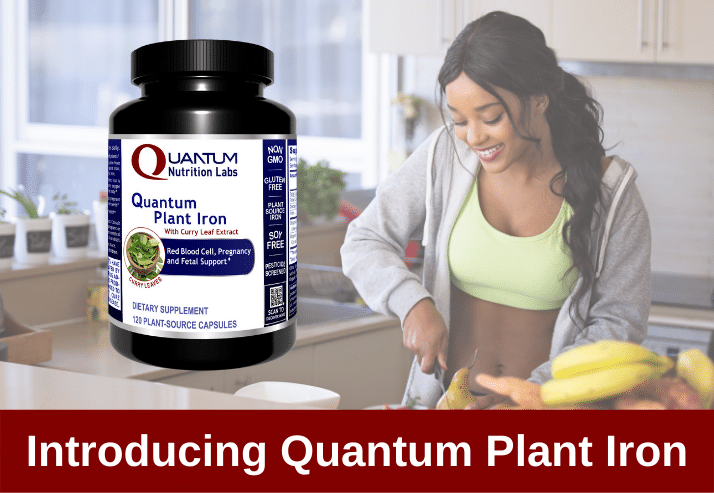 Our QNL team is proud to announce our new product launch – Quantum Plant Iron! For many years, iron supplements have been popular in the health marketplace, but unfortunately, many are based on ferrous fumarate (a chemical form of iron), not derived from body-friendly plants. This ferrous form of iron may cause unwanted gastrointestinal effects. We are proud to offer our plant-based, quantum-quality iron supplement for red blood cell, pregnancy, and fetal support.*
Here at Quantum Nutrition Labs, our team is constantly working to improve the health of our customers by offering high-quality, nutritionally superb dietary supplements. Our dedication to health and wellness means that we are continually searching for significantly beneficial ingredients that can really make a difference in your daily routine.
Why Do We Need Iron?
Iron is one of the most critical minerals that your body needs to thrive, playing many key roles throughout the body. Essential for the production of red blood cells which carry oxygen throughout the body, iron is especially found in hemoglobin and myoglobin.* Sufficient iron levels ensure proper functioning of the body and supports proper growth as well as immune system health.*
The Power of Plants
Formulated using curry leaf extract and organic MCT oil extract, Quantum Plant Iron offers high-quality, purely plant-based iron that is suitable for everyone, including for vegans and vegetarians. This plant-based iron formula is bioavailable and digestion-friendly as well as non-GMO, gluten-free, and soy-free.* This supplement is an effective, well-tolerated form of plant-source iron designed to help support healthy iron levels in the body.*
Excellent for Athletes
When iron levels are low, oxygen cannot properly be transported to cells, leading to a reduced work capacity as well as reduced aerobic athletic performance.* Proper intake of iron can support healthy energy levels, red blood cell production, and regulation of body temperature.* Quantum Plant Iron helps provide the body with the iron it needs to keep oxygen moving throughout the bloodstream.*
Why Plant Iron?
Many people prefer nature-based, plant-based iron instead of conventional iron supplements, such as ferrous sulfate. These conventional supplements may cause gastrointestinal stress, nausea and constipation, and are poorly absorbed by the body. Plant-source iron, on the other hand, is more readily absorbed and bioavailable to the body, making it a preferred form of iron.