by QNL Staff,
September 2nd 2021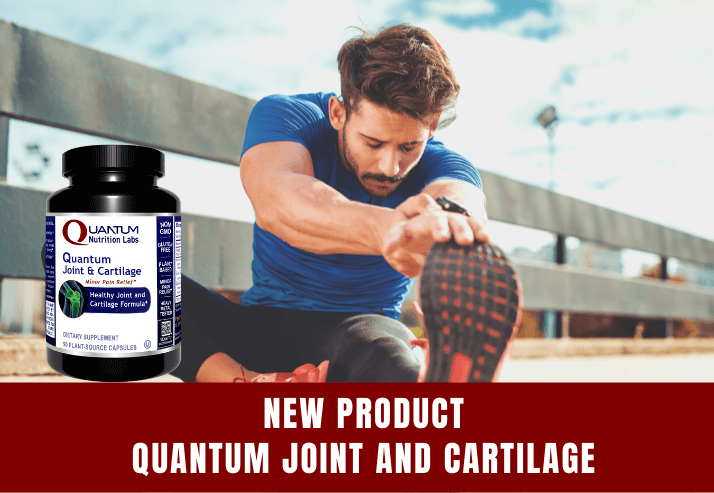 Here at Quantum Nutrition Labs, our team is constantly working to improve the health of our customers by offering high-quality, nutritionally superb dietary supplements. Our dedication to health and wellness means that we are continually searching for significantly beneficial ingredients that can really make a difference in your daily routine. The results are in! The QNL team is proud to announce our new product launch – Quantum Joint and Cartilage!
This all-star formula features key nutrients to support joint and cartilage health, ease minor pain associated with normal day-to-day wear and tear of joints, and provides three clinically studied ingredients: organic Andrographis paniculata, white willow extract, and sodium hyaluronate to support healthy cartilage, joint health, and flexibility.*
Quantum Joint and Cartilage is a plant-based formula that has been carefully crafted to support healthy cartilage, joint health, and flexibility to help you move through your day elegantly and with ease.* This incredible trio of ingredients helps provide the vitamins and nutrients needed to keep the foundation of your body strong and thriving.*
Andrographis paniculata, our first ingredient, is a powerful plant with a long history of use in promoting health.* Often referred to as the "King of Bitters," this botanical has the specific ability to support musculoskeletal tissues, including joints.* This plant contains phytochemicals called andrographolides, which have been studied for their potential to support circulatory and joint health.* This ingredient is also a botanical adaptogen with the ability to promote a healthy adaptive response to common daily stressors.*
Hyaluronic acid is a chief component of the body's connective tissue, forming a protective gelatinous matrix around the cells in joints.* This acid is also a component of the fluid that is contained in your joints and helps lubricate your joints.* Quantum Joint and Cartilage uses sodium hyaluronate, a stabilized form of hyaluronic acid, as a key component in this formula. Studies have shown that sodium hyaluronate is more stable and less prone to oxidation, making it the preferred form to support joint and cartilage health.*
Our final main ingredient, willow bark extract, has been used for thousands of years as a minor pain reliever for joints (especially in the knees and hips).* Due to its long history of use, willow bark extracts are even commonly used by some highly successful athletes.* This botanical also contains polyphenols and other flavonoids that may provide antioxidants or other therapeutic benefits.*
Your joints and cartilage are the most essential foundation of your entire body. It's important to be able to move freely with ease. Support your joints to help yourself live a happy, healthy life. Check out our brand-new formula and let us know what benefits you experience. Go Quantum!