by QNL Staff,
December 8th 2020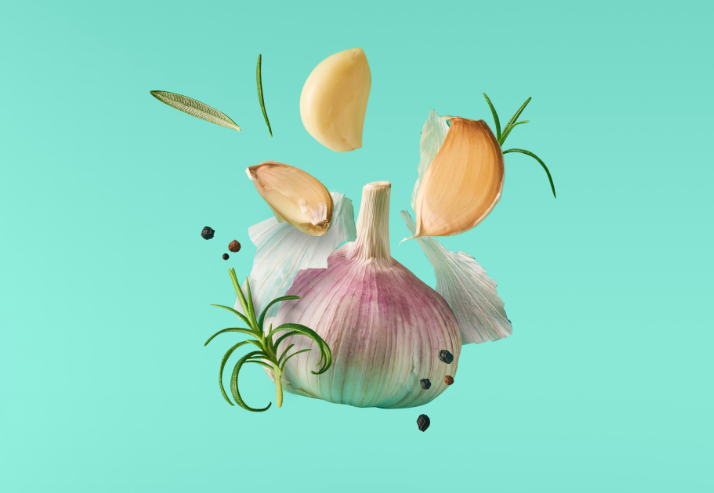 Garlic has been long recognized by many civilizations, including the Egyptians, Babylonians, Greeks, Romans, and Chinese, as a heart and blood system superstar which helps support healthy blood pressure, healthy cholesterol levels, and healthy arteries.* Additionally, garlic is known to be a natural support for many health concerns.* These incredible health-boosting properties are due to sulfur compounds in garlic cloves.
Quantum Nutrition Labs is proud to offer a high-quality, broad-spectrum garlic formula, Quantum Garlic Complex. This formula features allicin, a legendary organosulfur immune compound that is naturally released from garlic when the fresh bulb is pressed. The concentrated allicin in Quantum Garlic Complex supports immune and cardiovascular health.*
Garlic is truly one of the most famous plants in all of human history with a long history of use by pharaohs and ancient cultures for its wide-ranging health benefits.* The beneficial effects of garlic are in large part attributable to the unusual concentration of sulfur-containing compounds in the plant. It is due to the health properties of garlic that this plant has become a cornerstone ingredient of one of the world's healthiest diets, the heart-healthy Mediterranean diet.*
Quantum Garlic Complex provides concentrated amounts of allicin that is extracted from garlic through a process which produces living-source allicin. The fully potent, active factor in garlic is available in this revolutionary formula in a concentrated form through a process which has only recently become available in supplement form.
If you've been searching for a heart-healthy, immune-boosting supplement to help get you and your family through the winter, Quantum Garlic Complex may be just the formula for you.* At last, you've found a full-spectrum, botanical formula crafted from superior quality garlic extract with concentrated amounts of allicin – just when you need it most.
Psst, Quantum Garlic Complex is 30% off through the month of December, so stock up while you can!**
*These statements have not been evaluated by the Food and Drug Administration. This product is not intended to diagnose, treat, cure, or prevent any disease.
**Some rules and regulations apply. See https://qnlabs.com/garlicidin.html for details.