by QNL Staff,
March 23rd 2022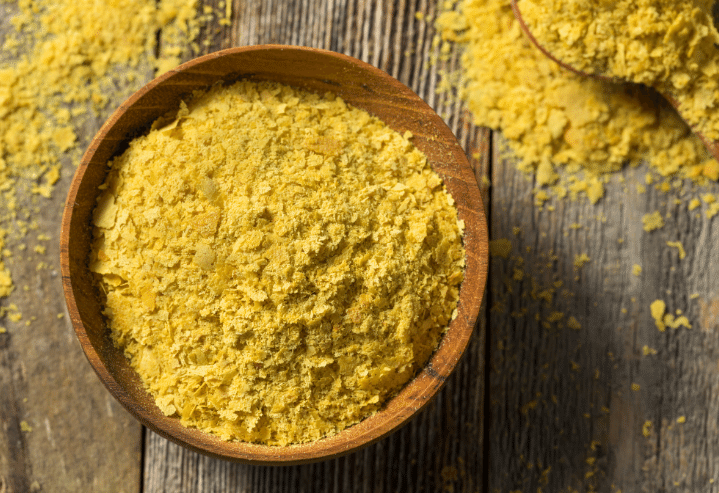 What if there was a "secret ingredient" . . . that when you added it to any dish (such as salads, soups, sauces, or main entrees), it created an unbelievable appeal with that complex, delicious, full-fledged taste we all crave? What a wonderful secret, right? OK, we can't really promise this works for everyone – but we have a lot of enthusiastic fans that love this secret ingredient. So what is it?
It's nutritional yeast! Its high-protein, vegan-friendly, yellow colored flakes blend well in just about any food and not only upgrade the taste, but provide some really hearty nutrition. It's no secret that the food you fuel your body with is intrinsically important for how you feel every day, not to mention your longevity . . . but that doesn't mean you have to eat boring, tasteless food as your duty to have good health. High-yum factor ingredients like nutritional yeast can make meal times more appetizing and delicious.
One reason that nutritional yeast has made such a splash in recent years is due to its cheesy, nutty, savory flavor – and its ability to add nutritional value to any meal while increasing the taste. That's why Quantum Nutritional Flakes is one of our all-time favorites! 
Happy Customers
One happy customer commented: "I call Quantum Nutritional Flakes my 'secret ingredient.' It seems like whatever I add it to – soups, salads, rice – it seems to give it a heartier, more delicious taste." Nutritional yeast is versatile and compatible with nearly any diet or eating style. What are you waiting for? You'll love adding this superfood to spice up any dish! Plus you'll love the added nutrition.
Is All Nutritional Yeast the Same?
Not at all. Nutritional yeast can be grown on different mediums (such as glucose -- not desirable), but the best type is grown on molasses, such as Quantum Nutritional Flakes . At QNL, we never add unwanted excipients or "junk" fillers toQuantum Nutritional Flakes or our other products – but beware, in other brands, undesirable agents are common (especially avoid magnesium stearate – a definite 'No Thank You')!
Boost Your Protein Intake + Get Your B Vitamins
Our nutritional yeast is a unique, non-GMO, vegan-friendly food. It boasts 4 grams of high-quality protein per tablespoon. Quantum Nutritional Flakes  contains both essential and non-essential amino acids and is rich in the beneficial mineral, selenium.* In addition, Quantum Nutritional Flakes  includes a full range of added B vitamins, including vitamin B12.* 
How to Add Quantum Nutritional Flakes to Your Diet 
We think you'll love the delicious nutty taste of Quantum Nutritional Flakes  that can enliven any dish. It not only helps to enhance flavor, but also helps give a "creamy" texture. You can add it to soups, salads, sprinkle it over roasted vegetables or veggie chips, stir some into grain dishes, add it to popcorn, stir into guacamole and much more. It's so versatile, you can add it to almost any dish! 
COOL RECIPES WITH THE "SECRET INGREDIENT"
Here are some tasty recipes to add Quantum Nutritional Flakes to your diet:  
Stellar Salad Dressing  
Ingredients You'll Need
1 cup of your favorite herb (cilantro, basil, or parsley are our favorites!), roughly chopped    
½ clove - fresh garlic  
¼ cup - finely chopped onion  
1 Tbsp. - Dijon mustard  
3 Tbsp. - Quantum Nutritional Flakes  
¼ Avocado or 2 Tbsp. Quantum Coconut Oil  
3 Tbsp. - Organic apple cider vinegar  
¼ - 1/3 cup – purified water  
¼ tsp - fresh ground black or white pepper  
Volcanic Pink Salt to taste  
Directions:   
Add all ingredients except fresh herbs to a blender and blend until smooth. Add herbs and blend until desired consistency is reached. To make the dressing thicker, add more avocado or Quantum Nutritional Flakes. Additional water can be used to thin the dressing if needed.   
Power Tomato Soup 
Simple Ingredients Needed
1 cup - your favorite tomato soup (we love Amy's Organic Cream of Tomato!) 
To taste: add Volcanic Pink Salt, Quantum Nutritional Flakes, fresh garlic, fresh thyme, rosemary, or basil.  
Directions:   
Heat tomato soup in a pan until hot to the touch (but not boiling). Pour into a bowl and add seasonings to taste such as Volcanic Pink Salt, Quantum Nutritional Flakes, fresh garlic, or herbs such as thyme, rosemary, or basil. Enjoy! 
Perfect Popcorn  
Simple Ingredient List
2 cups - freshly popped, organic popcorn  
1 Tbsp. - Quantum Nutritional Flakes  
1 tsp. - Volcanic Pink Salt  
1 – 2 Tbsp. - Quantum Coconut Oil  
Directions:   
Pop the popcorn as usual, then place in a bowl. Mix in Quantum Nutritional Flakes, Volcanic Pink Salt and Quantum Coconut Oil. Add more Quantum Nutritional Flakes if desired for a more intense delicious, nutty flavor. Yummm! Please enjoy!