by QNL Staff,
July 9th 2020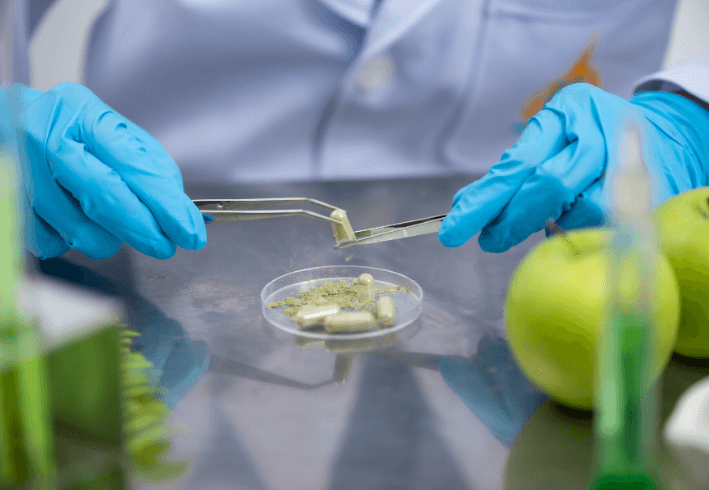 Click here to see our weekly radio specials.
Click here to see our monthly specials.
The safety of dietary supplements has been questioned by some people for years. How do you know if you can really count on the quality and purity of the nutritional supplements in your cabinet? You might think that the product label tells you everything about the product, but did you know that only five total statements are required to be present on the label? These five statements include the name of the product, the quantity of contents, nutrient information, ingredient list, and the name and place of the business that produced the product. If the label doesn't tell you everything, then what information is missing?
More than two-thirds of Americans take dietary supplements or vitamins on a regular basis. The majority of these people are confident in the safety and security of the supplements they purchase.1 However, in 2018, an analysis showed that nearly 800 dietary supplements sold in the United States were contaminated with unapproved ingredients. In some cases, those ingredients also included small amounts of medical drugs that have been previously banned by the Food and Drug Administration (FDA).2
"Adulteration of dietary supplements with hidden ingredients for financial gain has been happening for decades," says Quantum Nutrition Labs Chief Operations Officer and Quality expert Nickolas Labinsky. "Whenever there is short supply and/or high demand, unfortunately, some fly-by-night companies will try to make a quick buck with unscrupulous products. However, the real criminal may not be the manufacturer of the finished product, since they may not realize that their raw material vendor is adulterating or padding the raw material with cheaper ingredients. Unfortunately, many manufacturers are just not doing enough testing to catch these clandestine contaminants supplied by their vendors."
How is this possible? Although the FDA is responsible for the regulation of dietary supplements, including the evaluation of safety data about new ingredients, they do not need to approve a new supplement before it is put on the market. The FDA investigates products only after consumers report adverse reactions to supplements.3 It's their job to take action against manufacturers who produce adulterated or misbranded supplements after the product has been released in the market.
How can you protect yourself from getting "bad" supplements? Consumers should take time to investigate the basic integrity of a product manufacturer by looking at their certifications. Look for a company that goes above and beyond the established Current Good Manufacturing Practices (cGMP) that are required by the FDA. These regulations establish the bare minimum procedures for supplement regulation, so finding a company that has gone beyond this minimum by receiving a third-party certification is an indication of a company with integrity. One of the highest certifications is the prestigious United States Pharmacopeia (USP) Certification that indicates that a company has exceeded standard regulations in order to provide an exceptional nutritional supplement line in terms of quality, purity, and manufacturing methods.
"When it comes to dietary supplements, many consumers and healthcare practitioners look for independent oversight from a third-party," explains Brian Drake, Director of Quality at Quantum Nutrition Labs' manufacturer. "The gold standard of third-party auditors is the USP Dietary Supplement Audit-Only program, which is a completely voluntary program that is open to manufacturers of dietary supplements from around the world. They implement a rigorous audit that involves an in-depth visit to the manufacturing facility and evaluation of the manufacturer's quality systems. This ensures that they are performing above and beyond the standards that the FDA requires."
Drake elaborates on the rigor of this intensive audit: "The USP standards require positive air pressure in product processing rooms to prevent outside contaminants from entering the room. USP also requires a robust stability program to ensure products are shelf-stable over time and that they meet all quality, identity, and purity requirements so that you know your product ingredients haven't degraded over time. A third requirement is a validation program for each piece of manufacturing equipment to ensure uniformity between batches of product. Only after meeting or exceeding these standards is a USP certificate issued."
Quantum Nutrition Labs is proud to point out that its manufacturer has undergone this extensive, stringent USP auditing process and is certified by USP Audit Program. This program covers dietary supplement and dietary ingredient manufacturing facilities, incorporating FDA requirements and additional USP standards so that the manufacturer produces supplements you can trust and whose purity you can depend on.
Another risk to consumers who buy nutrition products is the prevalence of third-party vendors or unauthorized sellers of nutritional supplements. In 2019, Wired Magazine reported that customers who purchased probiotic supplements from one specific brand were warned that they should dispose of the products they had purchased.4 These products, sold on Amazon, were under suspicion of being counterfeit. Although Amazon issued refunds to affected customers, they claimed that they were not responsible for the quality of the supplements since they were sold by third-party sellers. As such, these products may not have been tested to determine if they contained inferior or harmful ingredients.
To best protect their own health and the health of their families, consumers should purchase nutritional supplements from only authorized resellers or directly from a reputable company. By sourcing products directly from a trusted company, customers can be assured of getting the high-quality supplements they expect rather than "iffy" products from a third-party reseller who is not responsible for the safety or efficacy of the supplements they are selling.
Naturally, you want to select supplements based on the health benefits they can provide to you, but also be sure to carefully select them from a high quality, reputable company. Selecting products from a transparent company that inspires your trust is the first step to better health!
Click here to see our weekly radio specials.
Click here to see our monthly specials.
Resources:
1"THE DIETARY SUPPLEMENT CONSUMER." CRN 2015 Consumer Survey on Dietary Supplements, 2015, www.crnusa.org/CRN-consumersurvey-archives/2015/.
2Allday, Erin. "Those Dietary Supplements You're Taking May Be Contaminated, Study Shows." SFChronicle.com, San Francisco Chronicle, 12 Oct. 2018, www.sfchronicle.com/health/article/Those-dietary-supplements-you-re-taking-may-be-13303121.php.
3Commissioner, Office of the. "Beware of Fraudulent Dietary Supplements." U.S. Food and Drug Administration, FDA, www.fda.gov/consumers/consumer-updates/beware-fraudulent-dietary-supplements.
4Matsakis, Louise. "Amazon Warns Customers: Those Supplements Might Be Fake." Wired, Conde Nast, www.wired.com/story/amazon-fake-supplements/.